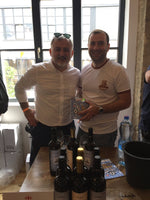 About Us
"Akhmeta Wine House", a member of Natural Wine Association Georgia, was established in the year 2014. We think that it's important to maximize the protection of the vineyard, grape, and wine ecosystem, biodiversity, natural biological cycles, and biological processes. Based on what's mentioned above, we are fixed on organic farming and natural wine production. Nowadays we are beneficiary of CAUCASCERT, the only one Georgian company, which offers its customers certification of organic products. Their certificate is legally recognized in Georgia, European Union, and Switzerland. CAUCASCERT Ltd has been accredited according to ISO-17065 by the German accreditation body DAkkS. It has been included in the list of third-country equivalent organic certification agencies (please, refer to EC regulation 1330/2016). Since the year 2019, our vineyards are Bio certified and from the year 2020, our Wine is Bio certified too. (http://caucascert.ge/en/operators/operators-register).
Kvevri Opening in our Marani
ELEGANT ORANGE WINE MATURED IN KVEVRI. DONT LOSE A CHANCE TO TASTE IT!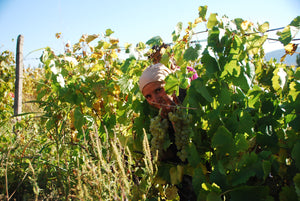 Akhmeta -town and center of the municipality of Kakheti province. Feel the spirit of our wine homeland!
More than 70% of the wine is produced in Kakheti, making it Georgia's primary winemaking region. Although approximately 80 different grape varieties are recorded in Kakheti, perhaps the most important are Rkatsiteli, Mtsvane, and Saperavi.
Akhmeta is distinguished by a remarkable microclimate ensuring perfect grape ripening conditions; the micro-zone is located at the junction of 3 rivers -Ilto, Alazani, and Orvili. Our vineyards are set from 500-550 m altitude from the sea level in this very micro-zone. Soil - carbonate rocks( limestone's, marls) with volcanogenic rocks (tuffs, tufobreccias, etc.).
Akhmeta was a part of PDO "Kakheti", but now it has been added to the newly created PDO "Akhmeta". The National Wine Agency applied to the National Intellectual Property Center of Georgia with a request to register an Akhmeta geographical indication.
Our vineyards are located at the junction of 3 rivers -Ilto, Alazani, and Orvili. In the year 2016 "Saperavi", "Khikhvi", "Kisi" and "Kakhuri Mtsvivani" varieties are planted at the terroir of Alaverdi Monastery. From the year 2019 capacity is raised from 3000 bottles up to 15 000 bottles per year. Since the year 2019, our vineyards are Bio certified. (http://caucascert.ge/en/operators/operators-register).
shop now
The Kakhetian traditional wine-making method and our Amphora wine. Taste unique Qvevri orange wine!
The technology of producing wine differs between different parts of Georgia. In Kakheti, the entire mass called "chacha" (grape pomace from pressing the juice) is involved in the process of fermentation.
Grape clusters (sometimes even entire branches and leaves) are placed in Kvevris in which they are crushed and left to fermentation and ripen. In a Kvevri dug in the ground the temperature does not change, staying at 13-15°C. Over several days, the grape peel falls to the bottom. After nearly two weeks, the Kvevri is covered by a lid made of stone or wood and left for as long as two years.
At the end of October, grapes were hand-harvested in small boxes, hand sorted in our "Marani" - Winecellar, lightly crushed into historical Georgian clay vessels Kvevri buried in the winery's earthen floor. The fermentation was performed by natural yeast, found on grape skin. After the long, up to 6-month maceration, the wine decanted and transferred into another Kvevri for aging.
The wine is bottled unfiltered. Our wine is rich in phenol compounds and tannins. It's characterized by high antioxidant properties due to the specific Georgian technology of Kvevri making. They are characterized by high antioxidant properties due to the specific Georgian technology of Kvevri winemaking. All our wines are estate-bottled.
Akhmeta Wine House wines, Rkatsiteli Kvevri 2016, Kakhuri Mtsvane Kvevri 2016 and Saperavi Kvevri 2016, during the wine tasting held in the frames of the 49th General Assembly of Association De La Sommellerie International, granted by Association De La Sommellerie International, Georgian Sommelier Association, and National Wine Agency of the Ministry of Agriculture of Georgia, with the award "the best wines of Georgia in one space".
Currently, we are exporting our wine to the USA and Japan.
shop now
High antioxidant properties caused by specific Georgian technology of Qvevri winemaking! Taste delight Qvevri wine!
Marani (wine cellar ) is used for keeping wine and protecting alcoholic beverages from potentially harmful external influences, providing darkness, constant low temperature, and proper humidity. A traditional Georgian Marani features a variety of winemaking tools, one such equipment is SATSNAKHELI a foot-stumping wine press. It's used for squeezing the harvested grapes with one's feet.
The main advantage to making wine in the Kvevri buried in an underground Marani (wine-cellar) is that the temperature of storing wine is almost unchanged from winter to summer. Kvevri is not just for storing wine but is also a part of the technological process. The fact that wine doesn't get excessively influenced by seeds, skin, and stems (chacha in Georgian) while stored is due to the inverse conical or spherical (egg-shaped) shape of Kvevri. The seeds sink first and are then covered by chacha (until it also sinks after fermentation is complete). As a result, we get wine with character and high storage potential, rich in tannins. White wines made in such a way have a flame color and are slightly touched with the flavor of almond, walnut, and dried apple. Moreover, the long maceration in contact with grape seeds makes the wines very healthy to drink. The pro-anthocyanidins they contain have anti-inflammatory and anti-cancer properties.
shop now
Location
Our Winery
Georgia
Kakheti Region
Akhmeta municipality
0900 Akhmeta
Str. Rustaveli 38
Mon - Sat, 10am - 9pm
Sunday, 11am - 5pm